---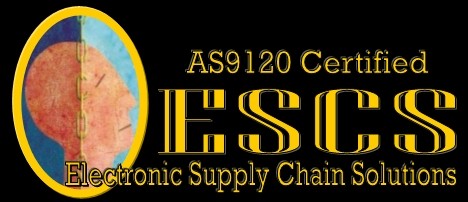 The Aerospace AS9120 & ISO9001-2000
Quality Certified Distributor of Electronic Components.


---


ESCS is both a franchised and stocking independent distributor of Electronic Components. We have direct factory and strategic alliances with many of the companies found on our web site. Because quality is key to many of our Aerospace Aerospace companies, we were one of the first electronic distributors to be certified to the Aerospace AS9120 and ISO 9001-2000 quality standard

Our customers know we stop at nothing to provide a solution to their electronic supply chain needs.
We offer just-in-time delivery helping you avoid costly production shut-downs.
If you are looking to save time and money by placing scheduled deliveries, ESCS should be your choice.



To request for quotes , please fill in the Quote Request Form.
672D033
672D047
672D062A1
672D074A1
672D092A1
672D-100-16
672D-100UF-15VDC
672D100V27UF
672D100VB27RM14X3
672D100VB6R8M10X1
672D101
672D1014
672D102M7R5
672D1044
672D1061
672D1062
672D1064
672D1064(476H04OC
672D1064476H04OCD
672D1065
672D1067
672D1068
672D106F060CC5D
672D106F063CC3D
672D106F100CD2D
672D106F100CD3D
672D106F100CD4D
672D106F100CD4Y
672D106F100CD5
672D106F100CD5D
672D106F200DM4A
672D106F200DM5J
672D106F250DT4D
672D106H060CC5A
672D106H100CD2
672D106H100CD2A
672D106H100CD2C
672D106H100CD3C
672D106H100CD5C
672D106H100CG5A
672D106H100CG5C
672D106H100CG5D
672D106H250DT4C
672D106M100CD5D
672D1072
672D1074
672D1075
672D1077
672D1078
672D107F012CC4D
672D107F012CC5D
672D107F015CC3D
672D107F015CD3D
672D107F015CD5D
672D107F020CG4D
672D107F020CG5D
672D107F050DT4D
672D107F050DT5D
672D107F050DT5DD1
672D107F060DT4D
672D107F060EK4C
672D107F060EK4D
672D107F063DG4J
672D107F075EN3D
672D107F100DT4D
672D107F160FR4D
672D107F160FR5D
672D107F250FV5J
672D107F7R5CC4D
672D107G015CD3C
672D107G016CD3C
672D107G016CD4C
672D107G063DM2C
672D107H012CC3C
672D107H012CC3D
672D107H012CC5C
672D107H012CC5D
672D107H015C
672D107H015CD2C
672D107H015CD4C
672D107H015CD5C
672D107H015CD5D
672D107H015CD5W
672D107H015DM5C
672D107H016CC
672D107H020CG2C
672D107H020CG2D
672D107H020CG3
672D107H020CG4
672D107H020CG4C
672D107H020CG5C
672D107H020CG5C67
672D107H020CG5D
672D107H020CG5W
672D107H020ET5C
672D107H025CG5C
672D107H050DT2J
672D107H050DT5C
672D107H050DT5D
672D107H050DT5G
672D107H050DT5J
672D107H050DT5R
672D107H05D
672D107H060DT4C
672D107H060EK2C
672D107H060EK5
672D107H060EK5C
672D107H060EK5D
672D107H060EK5J
672D107H060EK5R
672D107H060EK7C
672D107H075DS5C
672D107H07R5CC5C
672D107H080ET5C
672D107H250FV5J
672D107H606EK7C
672D107H7R5CC5C
672D107H7R5CC5W
672D107M015CC3C
672D107M025CC4D
672D107M050DT4D
672D107M050DT5D
672D107M100DT3J
672D1081
672D1081FGR3DT5D
672D1083
672D1087
672D1088
672D108F008DS4D
672D108F008DS5D
672D108F012DS3J
672D108F012DS4D
672D108F012DS5D
672D108F012EN4D
672D108F015ET3D
672D108F015ET5D
672D108F015ET5J
672D108F6R3EK2J
672D108F6R3EK4CD6
672D108F6R3EK5D
672D108F6R3EKE
672D108F7R5EN4D
672D108H010DS5C
672D108H012DS3O
672D108H012DS3T
672D108H012DS5C
672D108H012DS5J
672D108H012ET5C
672D108H012ET5J
672D108H015ET2J
672D108H015ET3W
672D108H015ET4C
672D108H015ET5
672D108H015ET5C
672D108H016ET5C
672D108H020EK5C
672D108H020EN5C
672D108H025FV4D
672D108H6R3EK2J
672D108H6R3EK3C
672D108H6R3EK5C
672D108H6R3EK5J
672D108H7R5EN3T
672D108H7R5ET4J
672D108H7R5ET5C
672D108M015ER3D
672D108M015ER5D
672D108U010DM3C
672D108U010DM4C
672D1090
672D1091
672D1092
672D1097
672D1098
672D109H012CC3
672D109H012CC3C
672D1106
672D1109
672D1110
672D1111
672D1113
672D1117
672D1119A
672D1139
672D1178
672D1203
672D1208
672D-120UF-
672D-120UF-+0-50V
672D-120UF-0-50VD
672D120UF050VDC
672D1219
672D1222
672D122F6R3GJ7C
672D122H3DS5C
672D122HGR3DS5C
672D122M012
672D126F075CD5D
672D126F100CC4
672D126F250DK4D
672D126H050BB5D
672D126H050BB5W
672D126H060CC5C
672D126H075CD3C
672D126H075CD5C
672D1274040DMSC
672D127F0
672D127F040DM2D
672D127F040DM4D
672D127F040DM4G
672D127F050DR3C
672D127F060DS
672D127F060DS3E
672D127F060DS3J
672D127F060DS4D
672D127F075EX5D
672D127F100
672D127F100EN2J
672D127F100EN3D
672D127F100EN4D
672D127F100ET3D
672D127F100ET5C
672D127F160FV4D
672D127H012CD5D
672D127H050DT4C
672D127H050DT5
672D127H050DT5C
672D127H050DT5D
672D127H060DS2E 1
672D127H060DS2E12
672D127H060DS5C
672D127H060DS5D
672D127H060DS5E
672D127H060DS5J
672D127H060DSS
672D127H060ET3J
672D127H100ET2
672D127H100ET2C
672D127H100ET3C
672D128F025FV5D
672D128F6R3DS3D
672D128F6R3DS5D
672D128H012ET3J
672D128H025FV3J
672D128H6R3DS2W
672D128H6R3DS3J
672D128H6R3DS5
672D128H6R3DS5C
672D128H6R3DS5J
672D128H6R3DS5J-0
672D128H6R3ET
672D128H6R3ET2J
672D128H6R3ET3J
672D128H6R3ET5C
672D128H6R3ET5J
672D128U016EK4A
672D132
672D137
672D137125VB4R7M9
672D147H075DS5J
672D14H075DS5J
672D150UFUOV
672D150UFUOVDC
672D150VF15V
672D150VF15VDC
672D151F015CD5D
672D156F020DT4D
672D156F060CD5D
672D156F200DT5D
672D156F200EN5J
672D156H0
672D156H060CD2D
672D156H060CD3C
672D156H060CD4D
672D156H060CD5
672D156H060CD5C
672D156H060CD5W
672D156H200DT4D
672D156H200DT5C
672D156H200DT5D
672D156H6
672D156H60CD5C
672D157F012CG5C
672D157F012CG5D
672D157F015CG5D
672D157F020CG4D
672D157F050EK4D
672D157F050EK5D
672D157F6R3CD3D
672D157F6R3CD5D
672D157F6R3GE1C
672D157F7R5CD5D
672D157H012CG5C
672D157H015CG3C
672D157H015CG5C
672D157H015CG5D
672D157H015CG5W
672D157H020CG3D
672D157H025CG5C
672D157H030DM5C
672D157H040DM5J
672D157H040EK5D
672D157H050E0005C
672D157H050E0005D
672D157H050EK5C
672D157H050EK5C.
672D157H050EK5D
672D157H050EK5J
672D157H060ET2J
672D157H060ET3C
672D157H060ET5C
672D157H063ET5J
672D157H100EU5J
672D157H125ER5J
672D157H6R3CD2DSP
672D157H6R3CD3D
672D157H6R3CD5C
672D157H7R5CD5C
672D157H7R5CD5D
672D157H7R5CD5L
672D157M025CG5
672D158F020FV4D
672D158H020FV5C
672D158H6R3ET2J
672D158H6R3ET5C
672D158M6R3ET4C
672D15V47UF
672D15VB101M10X16
672D178H6R3DS5C
672D178U010DS4C
672D178U020ER3C
672D180F040DK4D
672D180F50V
672D186F040BB5D
672D186H040CC3C
672D186H040CC5C
672D186H050CC5
672D186H050CC5C
672D186H060CD2C
672D186H060CD5C
672D186H075C65C
672D186H075CG5C
672D186H100CG5C
672D186HO40BB5C
672D187040DM3J
672D187F030DM2D
672D187F040DK5D
672D187F040DM3D
672D187F040DM4J
672D187F050DM5C
672D187F050DS4D
672D187F050DS5D
672D187F050DS5E
672D187F050EN5D
672D187F050KS2J
672D187F100FV5D
672D187G030DM2C
672D187H012CG5C
672D187H040DM3G
672D187H040DM5C
672D187H040DM5E
672D187H050DJ5J
672D187H050DM5C
672D187H050DS2
672D187H050DS2672
672D187H050DS2C
672D187H050DS2E
672D187H050DS2R
672D187H050DS5
672D187H050DS5C
672D187H050DS5J
672D187H050ET3E
672D187H050ET5C
672D187H100FV5C
672D187M100GE1C
672D188F015FV5D
672D188H015FV5C
672D188M016DS3J
672D200VH156U13X3
672D20VB101M10X20
672D20VB33RM8X13L
672D20VB390M12X35
672D2108H015ET2J
672D21860
672D220UF40VDC
672D223
672D225M100CC2D
672D226F050CC5D
672D226F050CD2D
672D226F050CD4D
672D226F050CD5D
672D226F05OCD4D
672D226F060CG5D
672D226F060GG4D
672D226F100CD2
672D226F100CD4
672D226F100CD5D
672D226F250EN3D
672D226F250EN4D
672D226F250EN5D
672D226H050
672D226H050CD3
672D226H050CD3W
672D226H050CD5
672D226H050CD5C
672D226H060CG2C
672D226H060CG3W
672D226H060CG5C
672D226H060CG5W
672D226H063CG5W
672D226H100DM3C
672D226H150DT5C
672D226H250ET5C
672D226H250ET5D
672D226H250ET5J
672D226H250ET5JSR
672D226HO35CD5C
672D226M050CD5R
672D226M200DT2D
672D227F025DK5D
672D227F040EK2J
672D227F040EK4D
672D227F040EK5C
672D227F040EK5D
672D227F050EN
672D227F050EN4D
672D227F050EN5D
672D227F050ER5J
672D227F050ET3D
672D227F050ET5D
672D227F050ETSD
672D227F063DT3D
672D227F100ER4D
672D227F6R3CG5D
672D227G010CD4C
672D227G025DM3C
672D227G040EK3C
672D227G040EK4D
672D227H025CG5C
672D227H025DM3C
672D227H025DM5C
672D227H030EK5C
672D227H035ET3C
672D227H040EK2C
672D227H040EK2J
672D227H040EK3C
672D227H040EK3D
672D227H040EK5
672D227H040EK5C
672D227H040EK5D
672D227H040EK5J
672D227H040EK7V
672D227H040EKSC
672D227H040ET5C
672D227H050EN5C
672D227H050ET2J
672D227H050ET3C
672D227H050ET3J
672D227H050ET5C
672D227H050ET5D
672D227H075JE5C
672D227H6R3CG3C
672D227H6R3CG5
672D227H6R3CG5C
672D227H6R3CG5W
672D227HO40EKJC
672D227M040DK2J
672D227M040EK4D
672D227M050DM4D
672D227U050DM4D
672D228F012FV4D
672D228F012FV5D
672D228H012FV5C
672D228U010ER4D
672D228U7R5DS
672D22H050CD5C
672D231
672D233
672D239
672D247U063EK3C
672D257
672D25846R3DS4
672D258U6R3D53C
672D258U6R3D54
672D258U6R3DS3C
672D25VB680M10X18
672D-270-30
672D271HO40DT5
672D272F7R5FV
672D275M250CD2D
672D276F060CG5D
672D276F075CG5D
672D276F100DM3J
672D276F100DM4D
672D276F100DM5D
672D276F200EN5
672D276H025BB5CD2
672D276H025CC5C
672D276H050CD5C
672D276H050CG5C
672D276H075CG5C
672D276H100DM2C
672D276H100DM3C
672D276H100DM5C
672D276H200ET3C
672D276M250EK2D
672D277F025DM5D
672D277F040DT2D
672D277F040DT2D67
672D277F040DT4J
672D277F040DT5D
672D277F075FV4D
672D277F100EU4D
672D277F40DT2O
672D277H020DM5J
672D277H025DM3J
672D277H025DM4C
672D277H025DM4D
672D277H025DM5C
672D277H025DM5O
672D277H025DM5R
672D277H025DT5C
672D277H030EK5C
672D277H040DT3J
672D277H040DT4C
672D277H040DT5C
672D277H040DT5E
672D277H040EK5D
672D277H075FV5C
672D277H075FV5D
672D277H7R5CG5W
672D278U6R3EN3J
672D285H200CD2C
672D287H025DM5J
672D306H030DJ3E
672D317M63DS4J
672D3200-16
672D328U016FV4A
672D330UF25VDC
672D331F025DT3J
672D336F100DM3O
672D336F100DM5
672D336F100DM5D
672D336F100EK5D
672D336F10DM5D
672D336G063CD4C
672D336H
672D336H016
672D336H020BB5C
672D336H1
672D336H100DK5
672D336H100DM3C
672D336H100DM4C
672D336H100DM5C
672D336H100DM5J
672D336H100EK5C
672D336H100EK5J
672D336H100FM5C
672D337F020DM3A
672D337F020DM40
672D337F020DM4D
672D337F020DM5C
672D337F020DM5D
672D337F025DT4D
672D337F025DT5C
672D337F025DT5D
672D337F02ODM4D
672D337F040EN4D
672D337F040ER5J
672D337F075EN4D
672D337F100FR4J
672D337H0
672D337H0205C
672D337H020DK5A
672D337H020DM2C
672D337H020DM3J
672D337H020DM5
672D337H020DM5C
672D337H020DM5D
672D337H020DM5J
672D337H025CG4D
672D337H025D
672D337H025DT2D
672D337H025DT3C
672D337H025DT5C
672D337H025DT5D
672D337H025DT5J
672D337H025DT5R
672D337H030ET5C
672D337H040ET2C
672D337H040ET2J
672D337H040ET3J
672D337H040ET4C
672D337H040ET52
672D337H040ET5C
672D337H040ET5J
672D337H040ET5O
672D337H100DM5C
672D337M020DM5D
672D337M025DT5D
672D338H6R3FV5
672D338H6R3FV5C
672D338M6R3ER4J
672D357H040DT5C
672D37F040EN5J
672D37H040DS5C
672D37M015DM4J
672D390
672D391M0-40V
672D395F250CD4D
672D396F040CC4D
672D396F150EN2O
672D396F150ET4D
672D396F200EN4D
672D396H040CC5C
672D396H040CC5W
672D396H100DT2C
672D396H150ET5J
672D396H250FV5C
672D397F040DS5JSP
672D397F040EN5J
672D397F040ER5D
672D397H015CG5C
672D397H015DM4J
672D397H015DM5C
672D397H020DM5J
672D397H020DT3D
672D397H020DT5C
672D397H020EK5C
672D397H040
672D397H040D55C
672D397H040D5C
672D397H040DS2R
672D397H040DS3C
672D397H040DS50
672D397H040DS5C
672D397H040DS5D
672D397H040DS5J
672D397H040DS5R
672D397H040DT5C
672D397H040ET5C
672D397H040ET5D
672D397H040ET5J
672D397H040ET5O
672D397H050EU5L
672D397H060FV5C
672D397H40DT5C
672D397M0154J
672D397M015DM4J
672D402
672D406F075DM3J
672D40V39UF
672D40VB181M12X16
672D40VB476M10510
672D40VB47RM10X17
672D414
672D417U025DM3C
672D427G016DM2C
672D432
672D470H040DM5C
672D470UF
672D471H015DT5C
672D471H6R3CCSC
672D475F10010X35
672D475F100CC5D
672D475F160CC4D
672D475F160CC5D
672D475F200CG4D
672D475H100CC2C
672D475H100CC5C
672D475H100CC5W
672D475H200CG4C
672D475H200CG5C
672D475M200CD2D
672D476040CD4D
672D476F025CC3D
672D476F025CC4D
672D476F025CC4I
672D476F025CC5D
672D476F040CC2D
672D476F040CD2D
672D476F040CD4D
672D476F040CD5D
672D476F100DG4D
672D476F100DG5D
672D476F100DS5C
672D476F160EK3D
672D476F160EK4D
672D476F200ER4D
672D476F200FV2D
672D476F200FV4D
672D476F200FV5D
672D476F250ER4D
672D476F250EU4D
672D476G040CD3C
672D476G040CD4D
672D476H015
672D476H015BB3D
672D476H015BB5A
672D476H015CC3C
672D476H025CC2D
672D476H025CC4D
672D476H025CC51
672D476H025CC5C
672D476H025CC5W
672D476H040CD2D
672D476H040CD5
672D476H040CD51
672D476H040CD5C
672D476H040CD5W
672D476H100DS3C
672D476H200FV5J
672D476H200FV5J67
672D476H200FV5R
672D476H200FV5R67
672D476H40CD2C
672D476K040CD5
672D476M040CD4D
672D477F012DM3J
672D477F012DM4D
672D477F012DM5C
672D477F012DM5D
672D477F015DT-40
672D477F015DT4D
672D477F015DT5D
672D477F020EK4D
672D477F020EK5D
672D477F025DS2J
672D477F025DS4D
672D477F025DS4J
672D477F025DS5C
672D477F025DS5D
672D477F025EN3D
672D477F040ER5C
672D477F050FV4D
672D477G0125C
672D477G012DM5C
672D477G025DM5C
672D477G025DS3C
672D477G912DM5C
672D477H010DM5C
672D477H012DM2D
672D477H012DM2J
672D477H012DM3C
672D477H012DM5C
672D477H012DM5D
672D477H012DM5E
672D477H012DM5J
672D477H012DM5J67
672D477H015DT5C
672D477H015DT5J
672D477H020EK3C
672D477H020EK3J
672D477H020EK5C
672D477H020EK5V
672D477H025DS3C
672D477H025DS3D
672D477H025DS4P
672D477H025DS5C
672D477H025ET5
672D477H025ET5J
672D477H025ET5R
672D477H030ET5C
672D477H040ET5C
672D477H040JE5C
672D477H050FV5C
672D477H050JE5C
672D477M025CC4D
672D477M025ET5C
672D477M035DK4D
672D478U7R5FV5J
672D507U040DS4A
672D523
672D532
672D565F250CG4D
672D566F050EK4D
672D566H040CD5C
672D566H040CD5D
672D566H040CG2C
672D566H040CG5E
672D566M040CG5D
672D566X040CG
672D567F020D55D
672D567F020DS4J
672D567F020DS5D
672D567F020EN2J
672D567F025DS5D
672D567H015DM5C
672D567H015DT2J
672D567H015DT5C
672D567H020D
672D567H020D55C
672D567H020DS2J
672D567H020DS3C
672D567H020DS4J
672D567H020DS5
672D567H020DS5C
672D567H020DS5F
672D567H020DS5J
672D567H020DS5J-0
672D567H020DS5O
672D567H020ET2J
672D567H020ET5C
672D567H7R5DM3J
672D574
672D590672D590672
672D590UNITEDCHEM
672D597
672D597U050ER3
672D597U050ER3C
672D6.3V680UF
672D602
672D607H015EK5C
672D60V22UF
672D622
672D626F075DK2C
672D674
672D680F150D40X13
672D680UF6.3V
672D680UF63
672D680UF63V
672D683
672D685F100CC5D
672D685F100CD2D
672D685F100CD4D
672D685F100CD5D
672D685F150CG4D
672D685F200CG4D
672D685H075CC5C
672D685H100CD2C
672D685H150CG5C
672D686F025CC4D
672D686F025CD5D
672D686F040CG3D
672D686F050DK5D
672D686F060DK3D
672D686F060DK4J
672D686F060DM3T
672D686F060DM4D
672D686F060DM5D
672D686F060DM5J
672D686F100EK3J
672D686F100EK5001
672D686F100EK5D
672D686F150FV3D
672D686F160EN4D
672D686F200FR4D
672D686H020CD5
672D686H020CD5C
672D686H025CD
672D686H025CD2C
672D686H025CD51
672D686H025CD5A
672D686H025CD5C
672D686H040
672D686H040CG5
672D686H040CG5W
672D686H050DM5C
672D686H060DM2J
672D686H060DM3J
672D686H060DM4C
672D686H060DM4D
672D686H060DM4G
672D686H060DM5
672D686H060DM5C
672D686H060DM5C67
672D686H060DM5D
672D686H060DM5G
672D686H060DM5J
672D686H063DM5J
672D686H100EK2C
672D686H100EK5C
672D686H100EK5J
672D686H100ET5C
672D686H100ET5J
672D686H150FV3D
672D686M160FV5D
672D687F012DT4J
672D687F015EK4D
672D687F015EK5D
672D687F020EN4D
672D687F020ET5D
672D687F6R3DM4B
672D687F6R3DM4D
672D687F6R3DM5C
672D687H012DT2E
672D687H012DT5C
672D687H012DT5J
672D687H015EK5C
672D687H015EK5J
672D687H020CD5C
672D687H020EN5D
672D687H020ER5D
672D687H020ET2J
672D687H020ET5C
672D687H025EU5C
672D687H025EU5J
672D687H6R3DM2B
672D687H6R3DM4D
672D687H6R3DM5C
672D687H7R5DT5C
672D68H015EK5C
672D68H060DM5C
672D68UF100VDC
672D68UF100VDC105
672D7.5V1000UF
672D727H016DT5J
672D782
672D786H100DT5J
672D7949H
672D-8.2UF,250VDC
672D820F015CC5D
672D825F100CC5D
672D825F250DG4D
672D825F250DM5C
672D825H100CC5C
672D825H250DM5C
672D825H250DM5J
Catalog